We are extremely fortunate to retain a very experienced collective of both watch and clockmakers, these craftsmen make up the highly professional in house team.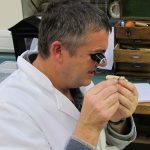 Tim Hughes MBHI – An antique clock restorer who graduated from the distinguished West Dean College in West Sussex, attaining the West Dean  Diploma, BADA and the West Dean Professional Development Diploma. He is also a Craft Scholar from the Queen Elizabeth Scholarship Trust (QEST) which funds the education of  talented craftspeople through traditional college courses, apprenticeships or  one-on-one training with masters.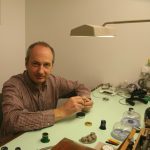 Cameron McNaughton MBHI – A Watch and Clockmaker responsible for the restoration of antique, vintage and  contemporary watches. Cameron graduated from the Royal Melbourne Institute of Technology in 1993, following a five year apprenticeship at Canterbury Clocks in Melbourne under the tutelage of Ken Payne. He went onto complete, and graduate as the top  student, on the WOSTEP course in Neuchatel in 1993, again studying under Master Watchmaker Antoine Simonin, before joining Asprey's in London and SWICO in Surrey. He is now an independent watchmaker.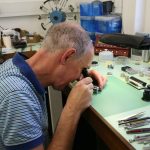 Martin Stapeley MBHI – Martin's  horological experience started at the age of 14 years old, working from his bedroom mending alarm clocks.  He then joined his father in the family business from the age of 16 in 1971 serving his  apprenticeships and qualifying in 1976.  He became a Craft Member of the BHI and continued to work alongside his father, taking over the business in 1996 until the business was sold in 2006. In 2007 he joined Pressleys Jewellers in Worthing for 4 years before being accredited by Rolex in 2008.  He became self employed and continued to specialise in the repair of vintage watches  before joining J E Allnutt's in 2011.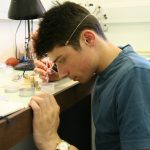 Jacob Russell FBHI – Geoff is delighted to announce that Jacob Russell, his apprentice for the last 5 years has passed his British  Horological Exams with Merit together with the highest mark for his portfolio; thus becoming the youngest Fellow of the British Horological Institute in Britain at that time. He has now joined the team at J E Allnutt & Son and is continuing the time honoured profession of watchmaking.
We also realise that we have a responsibility to continue to pass on this amazing source of knowledge and as such Geoff has taken on another apprentice.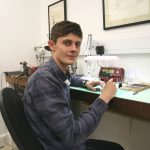 Patrick Woodward – Initially approached Geoff in November 2017, after reading an article about Jacob's success in the local press, about the possibility of an apprenticeship with J E Allnutt & Son Limited in Midhurst.  He initially came in on a trial basis one day a week whilst also continuing for several months with his full time employment in micro electronics.  He had approached over 30 companies, most of which did not even respond to his numerous requests for employment. Geoff saw great potential in Patrick and he offered him a full time apprenticeship in watchmaking in April 2018.
The process of training an apprentice is a long term commitment for any employer, in both time and expense, especially for a small business. Therefore Geoff approached several charities and educational trusts to secure the funding for full time training, watchmaking tools and the courses which Patrick would have to complete through the British Horological Institute.
Following intensive applications and interviews we are delighted to announce that Patrick has been accepted by the prestigious George Daniels Educational Trust, QEST (Queen Elizabeth Scholarship Trust) and has also received funding from a local charity, The Betty Martin Foundation in Midhurst.